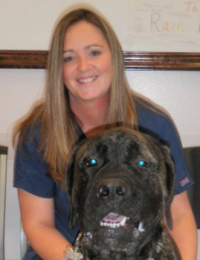 Tara has worked in the veterinary field since 2001. She has been at Harvest Plaza Animal Hospital since September 2012.
In 1994, she moved to St. Charles from Ballwin. She married her husband Mike in 2008. They had their first baby boy, David, born in July 2013. They have one four-legged kid; an Old English Sheepdog named Chase who loves to run and play soccer with David.
She has a love for the outdoors and some of her favorite things to do are gardening, four-wheeling, camping, and floating. She enjoys being a  mom and watching David grow.