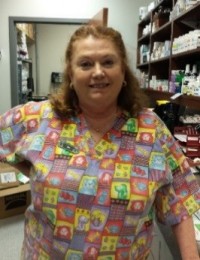 Jan has been with Harvest Plaza Animal Hospital for 12 years. She has worked in the veterinary field for over 33 years.
She lives in St. Peters with her husband Pete. She has a daughter Jennifer and two grandchildren. Jan's pets consist of two Cocker Spaniels- Cinderella and Maleficent and three cats- Tallulah, Huckleberry Finn, and Valentino.
She and her husband enjoy boating at the Lake of the Ozarks and spending time on the water with their family. They are huge Nascar fans and enjoy going to races. They also spend time watching their granddaughter compete in swim meets. Jan loves to cook and enjoys preparing meals and grocery shopping.