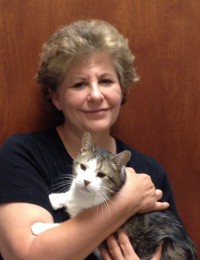 Dr. Amy Wolff received a Bachelor Degree in Biology in 1978 and a Doctor of Veterinary Medicine Degree in 1990. After completing her DVM, she pursued post-doctoral training in aquatic animal medicine with an emphasis on fish health. She has been working at Harvest Plaza since 1994. Dr. Wolff also taught as Program Director at Sanford Brown for eight years. During her time at Sanford Brown she combined her teaching and veterinary experience to publish her first book Vet Tech Essentials: Core Principles in Veterinary Technology.
Dr. Wolff was born and raised in St. Louis but now lives on a farm with husband Ray and dog Willow. She is a die-hard Cardinals fan.
In her free time, she enjoys gardening. She and her husband are enthusiastic fly fishermen and enjoy taking fishing trips together. She is also a talented glass blower. We at Harvest Plaza offer her work to clients. Dr. Wolff takes pride in making beautiful blown glass jewelry in memory of lost pets, which can include ashes and/or fur.