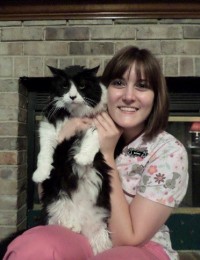 Brittney has been working at Harvest Plaza Animal Hospital for over 7 years. She earned an Associate of Arts degree from St. Charles Community College in 2011 and graduated with a Bachelor of Science in Biology from the University of Missouri – St. Louis in 2013. While at UMSL, she also received an Honors Certificate from the prestigious Pierre Laclede Honors College.
She has a Border Collie named Charlie and a Maine Coon named Tuxedo.
She loves playing water volleyball and badminton in the summer. In her free time, she enjoys reading, watching movies and TV, and playing games with friends and family.